Ezra D. Dickerman
"Captain", "Captain Dickerman"
Born in 1840 to Ezra and Sarah Dickerman, Ezra was a schoolteacher prior to the war and cousin to Caroline. A pacifist, he mentioned moving to Canada in the advent of a civil war, but his father told him "a man never gains anything by shirking his duty to his country". Soon after, his father died. A year later, when the Civil War began, Ezra decided to enlist into Company A, 10th Connecticut Volunteers, as a corporal. He was shot through the chin at the battle of Roanoke Island and as soon as his wound was dressed he went back to the ranks.
In 1862, men from his hometown began organizing Company I of the 20th Connecticut, and Ezra was chosen to be the second lieutenant. Henceforth, he returned home to prepare his men for the field – but before reaching home he was promoted to captain of the new company. Ezra was wounded severely at Chancellorsville by being struck by a musket-ball in his hip, and returned home on a leave of absence to recover. However, shortly thereafter he heard that a great battle was imminent and immediately proceeded to rejoin his regiment for the battle of Gettysburg.
The regimental history authored by John Storrs mentions his trip back to his regiment:
Though still limping from his wound, instead of asking for a renewal of the furlough, he started in all haste for the scene of impending conflict, the exact location of which he could not ascertain. Taking a pork train moving southward, which he concluded would not go far out of the way, he mounted a barrel and rode all night to Westminster, where, learning the direction of the battle-ground, he started, crippled as he was, on foot, and covered the distance (35 miles) in time to present himself for duty about five minutes before the battle began. When asked why he was so anxious to "go in" he replied, "I promised the boys to stand by them, and knew they would want me with them."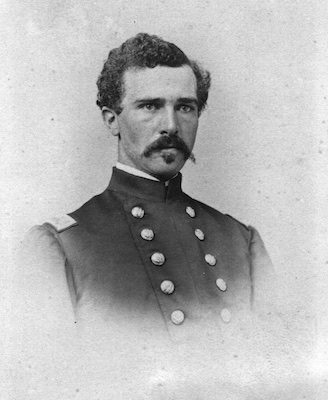 At the battle of Peach Tree Creek in 1864, he received his third wound of the war. A bullet struck him in the head, and he was left for dead by a surgeon. If it had not been for his cousin, Ezra would have almost certainly died on the battlefield as he was wounded too badly to be moved. Mark Dickerman received a pass and cared for Ezra on the field until he was well enough to be relocated to a hospital in Nashville, where the bullet was removed and he began to recuperate. Once he was well enough, he was assigned to duty in the conscript camp of New Haven, Connecticut and served as the head of the commissary department. During this time he married Mary Louise Lacey and was promoted to Major.
In May of 1865, one month before the end of the war, Ezra rejoined his regiment, and was mustered out of service with the rest of the regiment on June 13th.
Ezra and Mary's first child was born to them just a few months later on December 5th, 1865. Almost two years later, they had another son, who was given the same name as his father: Ezra Day Dickerman.
During this time, Ezra began experiencing very painful headaches as a result of the head wound he received at Peach Tree Creek in 1864.
On December 22nd, 1867, just one month after the birth of his namesake, Ezra Dickerman died from the effects of the head wound he received at Peach Tree Creek. At the young age of 27 years, sincerely mourned by his veteran comrades and by all who knew him, he was taken from this life. On the day of his burial, his pastor said of him: "A true man, a true patriot, and a true Christian".
Sources
In these letters:
Description

Things start to get lively in Virginia when pickets are attacked, and Capt. Dickerman is not feeling so well. Joe cracks a joke against Tucker, and Lieut. Dickerman is trying to get a discharge.

After their house almost burns down, Cecil writes a distraught letter as he contemplates what could have been.

This letter is primarily about what is happening at home in Connecticut, but Cecil does mention the possibility of moving shortly and what role the 20th Connecticut might play.

A letter primarily about the difficulty of shipping boxes to the soldiers and the contents of a box she sent.

Caroline writes about her mother going to a party and receiving money from Cecil along with a letter that made her "quite blue".

Caroline writes about her cold, the baby, how her funds were doing, paying debts, and a birthday party.

Caroline writes to Cecil, and complains about the state of the war and how the soldiers were being treated.

Caroline writes to Cecil about her money situation, how she enjoys sending him things, complains how the government doesn't care for their soldiers, and speaks about the local news.

Cecil writes a letter to Caroline about a box of food they received from home, the state of his pay, and a brief story of Austin getting lost in the woods.

In this long letter, Caroline complains about the Army having reviews on the sabbath, writes about their daughter, Christmas and New Years, a chicken-killing episode, and some matter of dispute between her and Cecil.

Cecil writes to Caroline about the state of the war and how God will have vengeance on the Confederate leaders, speaks of the ill effects of camp life on the minds and morals of the soldiers, the possibility of moving again, and the ever colder weather.

In this letter, Cecil reassures his wife that although food has been scarce and fairly monotonous, he's alright. He mentions working on their new winter huts, buying food from the sutler, and asks her to send some sausages.

In this letter, written on Christmas Eve, Cecil is quite depressed with the current state of the war. He speaks about the ever present nature of sickness, how difficult the last march was, how they are suffering from a lack of food, building new cabins for winter, and getting arrested for leaving camp without a pass.

In this letter, Cecil details what the men ate on the march and how they prepared the food. He then speaks of how the war has ravaged the country they marched through, and of sickness and death in his company.

In this letter, Cecil scolds Caroline for worrying too much and working too hard, reminding her to place her faith in Christ. He speaks of his dissatisfaction with the chaplain, how he spent Thanksgiving, and worries about their daughter's propensity for stammering.

In this entertaining letter, Cecil is in the midst of a small spat with Caroline. He defends himself, saying that he has not been drinking, and that he has been attending church. He mentions receiving a care box.

Cecil writes about a scare he experienced when some New York soldiers ended up in front of his line; the chance of moving more; possible impending battle; being on picket duty; and then advises Caroline on what to send in the next care box.

In this lengthy letter from Cecil, he tells of his Regiment's waiting for marching commands and comments rather charmingly on his Aunt Laura's view of wine ("oh my how nice she is"). He then describes the poor weather, prominent sicknesses, and uninspiring army commotion they'd been pleasured with.

Cecil writes about receiving a box of edibles from home, McClellan's inability to get into a fight, and building log huts. In a lengthy P.S. he addresses the rations and the weather.

Cecil complains about Col. Ross requiring the sick men to attend the inspection, thanks Caroline for sending a box, speaks about Harpers Ferry and the battle there, and writes of other business.

Cecil writes about the chance of the 20th Connecticut going into battle in the near future, sleeping in the open, how much he loves receiving letters, then comments on some visiting that Caroline had done.

Cecil writes to Caroline about business at home, directions for shipping a box, complains about the army grub, and speaks about how lovely a place Frederick was and how the Rebs treated the townsfolk very well.

Cecil writes about traveling by train from Frederick to Harpers Ferry, tells Caroline to send him a box, and describes Harpers Ferry in the aftermath of a battle.

Cecil writes a quick note to let Caroline know about his trip from Washington to Frederick, Maryland. He speaks of traveling in cattle cars and the beautiful scenery.

Caroline writes about how she wishes the army would let sick men go home on furlough, and speaks of visiting with neighbors.

Cecil writes about shipping his pistol and several other items home, being sick with a cold, and then gives Caroline directions for sending a care box.