Caroline A. Burleigh
"Carrie", "Carie"
Caroline Dickerman was born on July 7th, 1828, to Amos and Nancy Dickerman in Mount Carmel, CT. The Dickerman family was old stock – they were one of the original founding families in the area, so Caroline grew up surrounded by friends and family. She had one surviving sister; Nancy Matilda Dickerman was twelve years older than the baby of the family.
After her father died in 1850, Caroline found herself caring for her aging mother, and to help pay the bills, they rented out room and board in their house.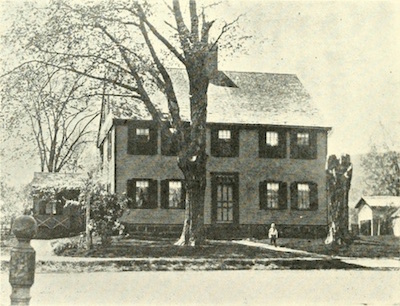 Shortly after Mr. Burleigh arriving in their community at the behest of Edward Dickerman, Caroline and Cecil met. Three years later, they had decided to tie the knot and were married on the 15th of February, 1856. Cecil moved into the large house that Caroline grew up in so that they could care for Caroline's aging mother. In spring of 1861, they had their first, and only, child; Louise Nancy Burleigh.
After Cecil had left for the seat of the war, Caroline found herself burdened with not just the care of her one-year-old daughter and her aging mother, but also with running the small farming operation they had and once again renting out room and board. This was a great burden for her as she outlines in her letters and she was often ill as a result of overwork. Soldiers aren't the only ones who sacrifice during war – and one could argue that the war was much harder on Caroline than it ever was on her husband.
After the war, they closed down their renting business and Mrs. Burleigh was able to relax and focus on keeping house and caring for her two dependents.
She lived four years after the death of her husband in 1895, passing in 1899 at 71 years of age.
Sources
In these letters:
Description

Things start to get lively in Virginia when pickets are attacked, and Capt. Dickerman is not feeling so well. Joe cracks a joke against Tucker, and Lieut. Dickerman is trying to get a discharge.

After their house almost burns down, Cecil writes a distraught letter as he contemplates what could have been.

This letter is primarily about what is happening at home in Connecticut, but Cecil does mention the possibility of moving shortly and what role the 20th Connecticut might play.

As spring approaches, the camp begins to shake of the winter slumber and a nearby farmer is willing to bet his farm that the war will end in three months based off of a spring drying up.

Once again feeling rather homesick, Cecil sends some final details about his stay in Washington, some excitement caused by some nearby Confederates, and his love for molasses.

Back in camp on a stormy day, Cecil writes about the changes in the Army, cooking pancakes, and asks what the news of the world is.

Lamentations of being separated from his wife and home, a visit to Mt. Vernon, and O'Brien's Pillow.

Cecil's trip through Washington D.C. after his brief leave, during which he toured the capital building which he describes in detail.

A short letter letting Caroline know that he had arrive at Washington D.C. after taking a leave of absence.

A letter primarily about the difficulty of shipping boxes to the soldiers and the contents of a box she sent.

Caroline writes about her mother going to a party and receiving money from Cecil along with a letter that made her "quite blue".

In this interesting letter, Caroline writes an adorable account of Louise, a letter from Austin, the rising costs of fabric, and much more.

Cecil writes on a lazy Sunday in camp about the poor weather, the condition of his uniform and clothing, and the state of his pay.

Caroline writes about the cold weather, going visiting, the soldiers sending pay home, some other news, and complains about Adams & Co. Express not sending boxes to the 20th Conn.

Caroline writes a lengthy letter about the state of the war, their baby, her headaches, her low view of Austin, and lots more.

Cecil writes about a visit from Mr. Bristol, the untimely death of a captain, their child, and why he chose to fight in the Civil War.

Caroline writes to Cecil, and complains about the state of the war and how the soldiers were being treated.

Caroline writes a lot about Louise, reflects on her past life prior to marriage, tells Cecil how to care for his sore throat, asks about some business matters, and wishes for Cecil to come home soon.

Caroline writes to Cecil, wondering how he is doing, contemplating and bemoaning the chance of another battle, and speaking quite a bit about their toddler daughter.

Cecil writes a quick letter to Caroline, apologizing for deceiving her, informing her of their marching orders, and the health of the boys.

Cecil writes to Caroline about the state of the war and how God will have vengeance on the Confederate leaders, speaks of the ill effects of camp life on the minds and morals of the soldiers, the possibility of moving again, and the ever colder weather.

In this letter, Cecil reassures his wife that although food has been scarce and fairly monotonous, he's alright. He mentions working on their new winter huts, buying food from the sutler, and asks her to send some sausages.

In this letter, written on Christmas Eve, Cecil is quite depressed with the current state of the war. He speaks about the ever present nature of sickness, how difficult the last march was, how they are suffering from a lack of food, building new cabins for winter, and getting arrested for leaving camp without a pass.

In this letter, Cecil scolds Caroline for worrying too much and working too hard, reminding her to place her faith in Christ. He speaks of his dissatisfaction with the chaplain, how he spent Thanksgiving, and worries about their daughter's propensity for stammering.

A letter from Cecil to Caroline about the ongoing construction of winter quarters, business back at home, the cold weather, when they will be paid, and the fellow members of his mess.

Cecil writes a quick to Caroline to let her know that his unit has moved and that he is still healthy.

Ruth Hall, a friend of Cecil's, writes to him about being sick, visiting Caroline, what her son John is doing, and thanks him for sending the photograph.

Caroline briefly writes about an accident that happened while a friend was loading a wagon, Mr. Whitney's promise to help the soldiers, and some other business.