Fairfax Station, Va, Dec. 27
Darling Wife,
I did not intend to write you tonight for I was in hopes to get a letter from you tomorrow but we have just received orders to be ready to march at a moment's notice with three day's rations1 in our haversacks. I have been getting the Co. ready and am now at leisure to write you a few lines, it being after ten o'clock at night. I have not found out where we are to go but I think we go toward Warrentown Junction or Catlett's Station. Be that as it may you will probably know where we are before this reaches you if you read the papers.
We are in the Twelfth Army Corps commanded by Gen. Williams, First Division comm. by Gen. Slocum and the 2nd Brigade comm. by Gen. Thomas L. Kane. I think some of these Gen's ought to be of consequence enough to get notice in the papers though this army is not blessed (or cursed as the case may be) with many newspaper correspondents. Consequently by our modest efforts are unnoticed while others who have done less and faired better have had their fame trumpeted abroad over the face of the whole earth, like the 15th for instance, who have kept the papers filled with self laudations ever since they have been out, to the disgust of all sensible people.
You speak of Brainard's high living, if he had been on the march with us2 he could not have fared so well. All we had to eat was salt pork raw and hard bread3 and it is what we have for the march tomorrow except a little piece of cheese I bought of the sutler at the rate [of] 30cts per pound, but you need not worry about that for we can put down that kind of fodder without any trouble.
I told you in my last about being arrested, the Col. gave my a pass the next day to Fairfax Courthouse but I did not find anything interesting there. It was filled with the inevitable soldier and the house where the august tribunal dispensed justice was used as a guard station. The town used to be right smart of a place for Virginia, but it is ruined now like all other places that has been visited by our armies. The only pleasant thing I experienced was the playing of a splendid band of music who were serenading a Gen.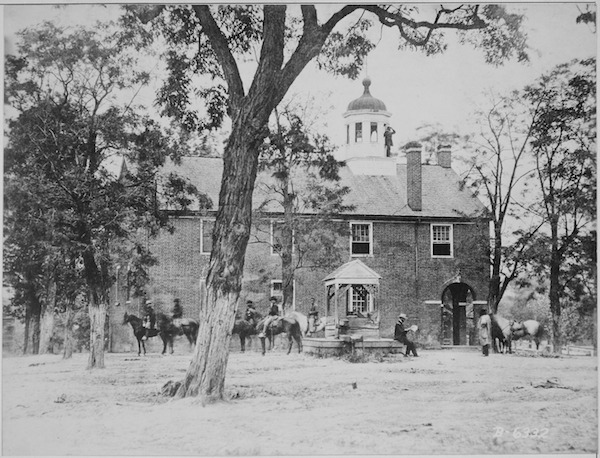 I can't write much more, I don't think we shall have to fight but if we do we shall have to put our trust in providence and keep our powder dry. I know it is a fearful place but I hope to do my duty as a soldier at the same time. I hope to be spared the necessity of taking human life. The idea is very repugnant to my feelings.
You do not write like a soldier's wife when you talk about our Gen's leading us to slaughter, you know that some must be killed in battle and those whose fate it is die like men.4
Hoping this may find you well in the safe keeping of God, I bid you goodnight.
C. B.