Cecil A. Burleigh
"C. A. Burleigh", "C. A. B."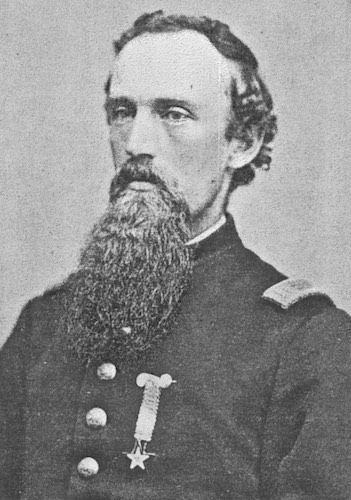 Cecil Amander Burleigh was born on June 30th, 1833 to Ithiel Burleigh and Elizabeth Jane Burleigh (née Lawson) in Richford, Tioga, New York. He born eighth in a family of twelve children. When he was thirteen years old, he left his home to apprentice under blacksmith Oscar Gleason of Berkshire, New York.
In 1853, Edward Dickerman of Mount Carmel, Connecticut invited the now 20-year-old blacksmith to employment in his smithy and a home in his family. Cecil accepted the offer, and it was in this household that he began to show the qualities and character that distinguished him later in life. It was at this time that Cecil met Caroline Dickerman, a niece of his employer.
In 1855, Cecil became the superintendent of Ives & Pardee, manufacturers of brass and iron harness, carriage trimmings, and hardware. However, this job was to be short lived — the manufacturing company went bankrupt after five years, and Cecil found a job as a teacher. Although he did quite well as a teacher, he did not enjoy the job.
Mr. Burleigh was married to Caroline Amelia Dickerman on the 18th of February of 1856 in New Haven, Connecticut. They had their first, and only, child on March 6th, 1861, and named her Louise Nancy Burleigh. The family moved in with Nancy Dickerman (Cecil's mother-in-law) to care for her, and there they ran a little farm in addition to Cecil's work.
When the Civil War broke out in April of 1861, Mr. Burleigh became a recruiting officer, a position at which he worked heartily. During his time in this position, he often had to leave home for up to a week on official business.
On the 13th of August 1862, a little over a year after the war started, Cecil enlisted in the 20th Connecticut Volunteer Infantry, Company I. Mr. Burleigh refused an offer to enlist as an officer, but was shortly promoted from private to first sergeant (orderly). On May 3rd, 1863, he was captured by Confederate troops during the battle of Chancellorsville. On May 15th, he was was paroled and sent north to a parole camp in Annapolis, Maryland, to wait for his official exchange. Cecil was permitted to go home with some of his other townsmen who had been captured. By June 10th, the exchange was finished and Cecil found his way back to his regiment.
On Feb 6th, 1864, he was promoted to 2nd Lieutenant of Company C, 20th Connecticut. His pay went from $17 per month to $105.50, though he now had to purchase all his own clothing and equipment.
His service during the war was filled with distinction and he was looked up to from the men underneath him. In a letter to Caroline informing her of her husbands capture on May 17th, 1863, Edward Doolittle had this to say of their first sergeant:
A man of sterling principle, a most devoted friend and zealous patriot. I have known him but to respect him and have felt for him a friendship warm and enduring. A man as earnest in the causes in which he is engaged I never have seen, and this earnestness is the only cause I can assign for his unwillingness to leave our entrenchments at a time when almost, and perhaps all others, had left. He was urged strongly by Corp. Austin to leave. I also tried to persuade him, his only reply was "he could not then".

As for coolness and self possession, few men possess it to the degree that did he. All through the engagement and while standing there alone, he was calm and self reliant, never for a moment seeming the least depressed or dejected. I of course had no chance for conversation with him during the engagement, but from his very looks I was satisfied that he felt that all would go well with him. He would look up at me and smile (I was very nearly directly behind him); this he did repeatedly during our stay behind the breastworks."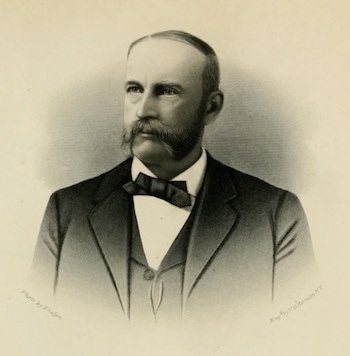 On March 4th, 1865, Mr. Burleigh was promoted to the rank of Captain. On June 6th, his commission was revoked and he was mustered out as a 2nd Lieutenant on June 13th. Shortly thereafter he returned to his wife and child in Mount Carmel and set up a blacksmith shop.
Later in life, Cecil held important civil offices. He was elected selectman in 1872, '77, '78, and '84, was a Representative in the Connecticut General Assembly of 1880, and served as the county commissioner from 1887 to '93. After that, he began working in the insurance businesses.
Cecil began to struggle with diabetes in 1894 and it grew much worse in the spring of 1895, with newspapers intermittently reporting his condition as "critical". On April 27th, 1895, Cecil Amander Burleigh died at his home in Mount Carmel, leaving his wife and only child. He is buried in Central Burying Grounds, in Hamden.
Sources
In these letters:
Description

Things start to get lively in Virginia when pickets are attacked, and Capt. Dickerman is not feeling so well. Joe cracks a joke against Tucker, and Lieut. Dickerman is trying to get a discharge.

After their house almost burns down, Cecil writes a distraught letter as he contemplates what could have been.

This letter is primarily about what is happening at home in Connecticut, but Cecil does mention the possibility of moving shortly and what role the 20th Connecticut might play.

As spring approaches, the camp begins to shake of the winter slumber and a nearby farmer is willing to bet his farm that the war will end in three months based off of a spring drying up.

Once again feeling rather homesick, Cecil sends some final details about his stay in Washington, some excitement caused by some nearby Confederates, and his love for molasses.

Back in camp on a stormy day, Cecil writes about the changes in the Army, cooking pancakes, and asks what the news of the world is.

Lamentations of being separated from his wife and home, a visit to Mt. Vernon, and O'Brien's Pillow.

Cecil's trip through Washington D.C. after his brief leave, during which he toured the capital building which he describes in detail.

A short letter letting Caroline know that he had arrive at Washington D.C. after taking a leave of absence.

Apologies for making Caroline "blue" in his prior letter, Austin's trouble on the march, when their cow will calve, and other details.

A letter primarily about the difficulty of shipping boxes to the soldiers and the contents of a box she sent.

A short letter mentioning the cold and stormy weather, the state of their pay, shipping boxes, and what he would like.

Caroline writes about her mother going to a party and receiving money from Cecil along with a letter that made her "quite blue".

In this interesting letter, Caroline writes an adorable account of Louise, a letter from Austin, the rising costs of fabric, and much more.

Cecil writes on a lazy Sunday in camp about the poor weather, the condition of his uniform and clothing, and the state of his pay.

Caroline writes about the cold weather, going visiting, the soldiers sending pay home, some other news, and complains about Adams & Co. Express not sending boxes to the 20th Conn.

Caroline writes about her cold, the baby, how her funds were doing, paying debts, and a birthday party.

Caroline writes a lengthy letter about the state of the war, their baby, her headaches, her low view of Austin, and lots more.

Cecil writes about a visit from Mr. Bristol, the untimely death of a captain, their child, and why he chose to fight in the Civil War.

Caroline writes to Cecil, and complains about the state of the war and how the soldiers were being treated.

Caroline writes a lot about Louise, reflects on her past life prior to marriage, tells Cecil how to care for his sore throat, asks about some business matters, and wishes for Cecil to come home soon.

Caroline writes about a winter storm, how she hopes that Cecil is not marching in it, and the funeral of Sgt. Fowler.

Caroline writes to Cecil, wondering how he is doing, contemplating and bemoaning the chance of another battle, and speaking quite a bit about their toddler daughter.

Caroline briefly writes about an accident that happened while a friend was loading a wagon, Mr. Whitney's promise to help the soldiers, and some other business.