March 4th, 63
Camp near Stafford Court House, VA
Dear Wife,
I feel entirely unfit to write such a letter as I want to this morning, the excitement of the last two weeks, and the depression of spirits (in consequence of leaving home1) has unnerved me and I feel unfit for any kind of duty, but I must do something or I shall die off with the blues. I have material enough for a long and interesting letter, but I fear I shall fail to make it so.
I will commence from the time I left home and try and give you a history of my journey down to the present time. After I left you, I tried to cheer up a little and succeeded so far as to get my face strate [sic] (and as Louise says) wipe up. I could bid good bye to all without shedding a tear, except to my own family, there the feelings of the Soldier had to give way to those of the Husband, and father. Where ever I go the image of my dear Wife and child are present with me restraining me from evil and encouraging me to be true and honest in what I do.
I got to New Haven2 in time to call on Mrs. Paddock and Mrs. Barrows but had not time to go to Rebecca's. I am torry on her account but not much on Branson's. You must remember me to her and tell her I was stoped [sic] so much on the road down that I could not call there and keep my appointments elsewhere. Elford can tell you how I left New Haven, from there you will have to depend upon my veracious pen for the details of my journey. As soon as we left New Haven I went to my hammock and turned in but my state of mind was unfavorable to sleep, and I lay all night long thinking of home and the miseries caused by this horrible war 'till all most got to be a white feather democrat but the dull sound of the machinery of the boat and the splashing of the water at last worried me to sleep.
When we landed at New York we went to the Sanitary Committees and asked them for a reduction of fare they told us to go to the ticket agent and show him our passes and he would give us a ticket at government rates but he refused to sell us a ticket and he said we could pay the conductors I knew then we should have to pay full rate but we had no time to lose so we got aboard and were soon on our way to Dixie.
On the cars I saw a man from Deposit, N.Y. who was acquainted with all the folks that I used to know in that place. He said my old friend Ester Bullock (perhaps you have heard me speak of her) was married to a Rail Road Superintendent and had got three children (I think that was doing well for a small girl in five years) of the rest of my friends there, I presume you have no recollections. Except this I saw nothing 'till I got to Washington worthy of note, but there we saw the L. E. Phant.3 We arrived there about 6 1/2 o'clock P.M. We left our baggage in charge of a Nigger at the soldiers relief and as we supposed that we should leave in the morning we thought we would look about the City some so after taking a supper at a saloon we went through all the principal streets and listened to a serenade to some big man. I did not learn who, but think it was Gen. McClellan. After this we thought it time to look up lodgings and as they don't care much for soldiers there, it was impossible to get into a first class house so we did the best we could and went into a 2nd or some other class house. Of what happened to us there I have already told you.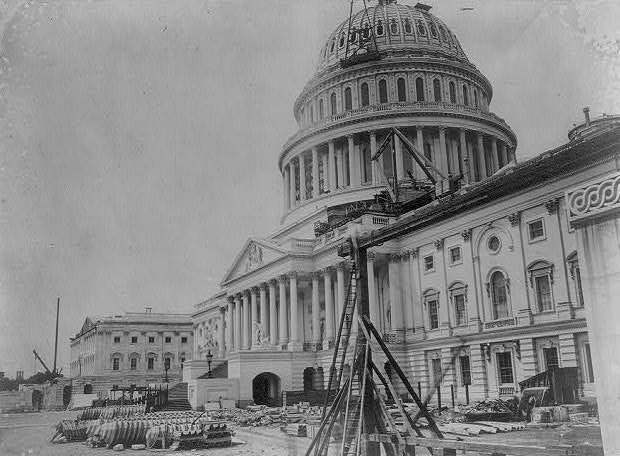 I will now tell you of our experiences after I wrote you my 2d letter. We passed Sunday evening reading and smoking after we had taken a short walk and retired early to bed. The next morning we went to the police station and after conferring with the detectives we thought we would see the Lion's of the place (having already seen the Elephant) so to commence we went to the capital and after taking a stroll about the grounds and looking at the bronze statue of a giant Indian and other celebrities we went inside (I would describe the outside but you would got a better idea of it from pictures than I could give in writing) we passed through long halls, on the lower floor where we saw nothing but marble pillars and heard no sound but the echo of our foot on the marble floor, we thought this uninteresting so we ascended the stairs. Here we found the halls filled with people passing both ways, mostly gayly dressed ladies and mustached gentry I suppose looking after some fat contract and using the ladies to help carry their points with the M.C.'s on each side of this hall which extended only through the wings on the north and south side were private rooms of the M.C.'s and neither house being in session accounted for the lively appearance of the hall.
We passed from this hall to the centre of the building directly under the dome, here we found a large room, circular, like the dome, and of the same size. On the walls were fine historical paintings representing various scenes of our early history such as the declaration of independence, the surrender of CornWallis &c. but the most interesting to me was the representation of Pocahontas receiving the Christian baptism.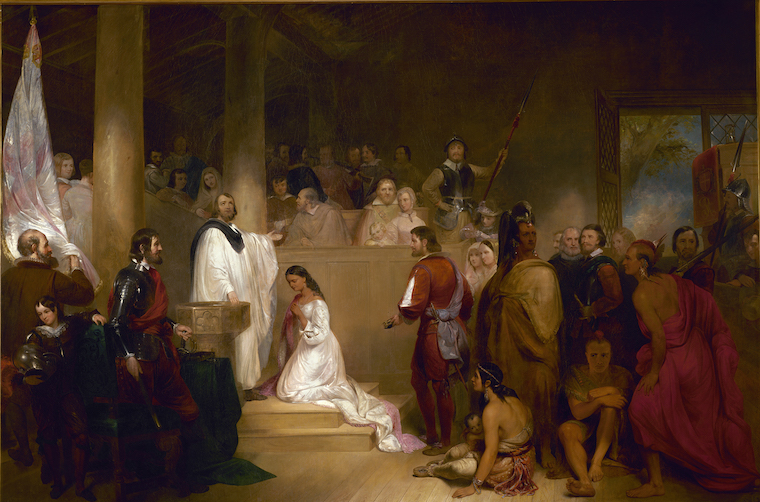 She was kneeling at the alter, her dark but handsome face expressing a meek and holy resignation of self. Her beautiful form was covered with a white robe, her hair was held back by a gold band, just back of her ears, and hung loose over her shoulders, her neck was encircled by a heavy string of gold beads. While over her stood the priest in his sacerdotal robe with his hand about to be lain upon the bowed head, heavy with the sacred blessing, while on one side were white men with head uncovered in silent reverence and on the other stood Powhatan with his followers, apparently awe stricken by the impressive ceremony. I looked long and earnest at this picture 'till my comrades tired of waiting for me.
Then we went to the Senate Chamber, the Senate being now in session. I was not very favorably impressed with the appearance of the Senate, the Senators had none of those awe inspiring manners that we read of in Roman history, but looked for all the world like common mortals.
We went from the Senate to the house of representatives to see that stormy body in Session. We got there just as the members were taking their seats, and listened to the prayer of the Chaplain, during that time there was tolerable good order in the house but no sooner was the amen said than the bustle commenced. It was not half so respectable an assembly as a town meeting in Hamden.
I should like to write you more about Washington but have not time but I will say like Parson Brownlow that while I was there I felt a disposition to steal something, the influence was so bad.4
I will now close by saying that we left the infernal city Tuesday morning, arrived in camp Tuesday night safe and sound. We are having very cold weather now but we are quite comfortable, the boys have got a fireplace in the hut made of sticks and mud. I have much more to write but now bid you good day for the present. May the blessings of God be with you and may His angels protect you all. Give my love to all, tell Mr. O'Brian his pillow fits first rate. Much love, many kisses to you and our darling,
Your devoted husband,