Oct 22nd 1862
Camp near Harpers Ferry
Dear Wife,
I write you with a thankful heart and full stomach. I received the articles you sent me in the box mostly in good order but the grapes and pears that were together spoilt and also the pickles. I was sorry to lose them but they were moldy and tasteless. I think cotton cloth is bad to do anything up in. If you ever send any more please put them in a can and put some vinegar on them. Don't send any more fruit that is juicy for it will spoil.
I believe Aunt Sarah is to send a large box and I understood Ezra that you were to have a chance to put in something. If you do, you may send my drawers and stockings and gloves or mittens. If you send edibles send some butter and if you can afford it, some cheese. Mr. Paddock had some and we have had some on our bread for a week now, it helps out wonderfully. A little jelly keeps well and the ginger cakes taste better here than they do at home. The pie you sent is delicious, I think it will keep some time if I let it. [Regarding] the wine, I put by one bottle according to your directions. The other I shall open tonight and treat some of my friends. I suppose you won't object to that.
You need not worry about my going into battle for according to present indications this army are not for fighting but for show. The Rebs run all 'round us and we do nothing to prevent them except send a squad of cavalry after them when they have got well out of the way. I think Gen. McClellan would make a good general if the Rebs would only keep still but they won't wait for him. While he is getting ready for them in one place they hit him in another. Oh, for a competent leader.
Our Regt. is building log huts, we are to be left here when the army moves (if it ever does move) as a reserve force. Our Gen. is not well enough to take the field, he has been wounded twice, the last time severely. It is Gen. Kane, brother to the great explorer, a brave General and a nice man. I wish our Colonel was half as clever.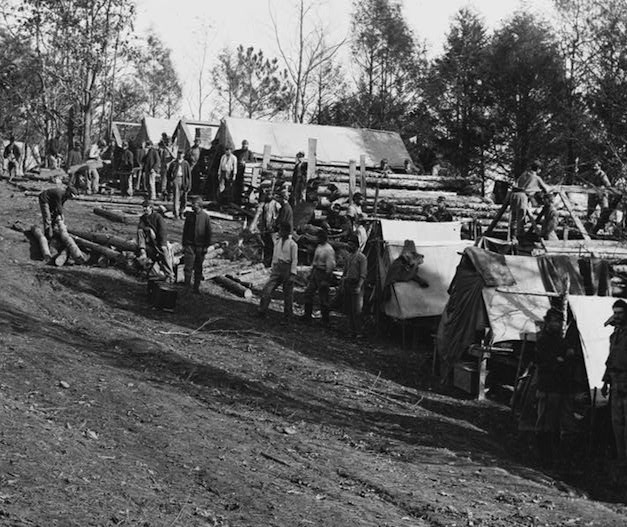 I wrote to John Hall's folks and sent one of my carte de visite1 and got an answer immediately. I have also had a letter from Martha, a very neat well written document. I will send it home when I get time to look it up but I have got to leave now. If I get time before the mail goes I will write more, if not, goodnight.
You wanted me to number my letters but I can't tell how many I have written, but I have written twice a week and sometimes when we moved 3 times. I think this is fourteen. I will begin with that number. Willis has had seventeen, 7 from his wife, but I notice they don't come as often as they did.
I have bought me some paper, fancy isn't it? It is the best I can get here.
C. A. Burleigh
Dear Wife,
You see I have got a chance to write a few lines more, but I don't know [how] soon I may be interrupted for just as soon as I get my writing material I [get] some extra work. I don't have to work very hard generally but I am liable to be called on any time2.
We have comfortable times now, it ain't like home but we get enough to eat now such as it is, but I can't eat beans3 here, they make me sick. I have given them up entirely so you see that I have to go short about one meal a day, but I guess I can stand it for I am growing fat on it. My health is first rate now but there are a good many complaining in the Regt.
The weather is quite cold here now, you may talk about sudden change in old Conn. but they are nothing to what we have here. Last Sunday I wrote you that it was very warm here, well, in two hours after sundown the wind blew from the northwest colder than Greenland. We like to froze before morning. Some of the boys complain of the cold now but I manage to keep comfortable. I have not put on any drawers4 yet, but then I guess I shall need to.
I expected to get a letter from you tonight but was disappointed. It must have been delayed some way for all your Sunday letters have got here Thursday since they got to coming. I am sorry you have so much financial trouble, I think you had better keep for use the money that Ed Dwight sends you5. There is no use of your being short of money if he sends that according to agreement. Have you got the money for the potatoes? If not, when you settle with Henry charge them to him. Has Boss Ed sent Fannie home yet? I expect he will, but I hope not6.
If we stay here this winter I may get a chance to come home before spring. If I do I believe I shall take it if it does cost considerably.
How is Louise? Does she talk about Papa as much as ever? I look at her picture most everyday and smile when I think how she acted the day it was taken. I wish I had her on my knee tonight, God bless her.
How is Mother? Now is she well as usual? I hope you will be very careful of her, tell her I hope to see her again. Give my respects to Libby Peck and Mrs. Ives. Tell her Brainard is well and a first rate boy too. He tends to his biz and has made a first rate soldier. Give my respects to Aunt Sarah and all my friends and O'Bryans folks. Much love and many kisses from your devoted husband.
C. A. Burleigh