Sarah Dickerman
"Aunt Sarah"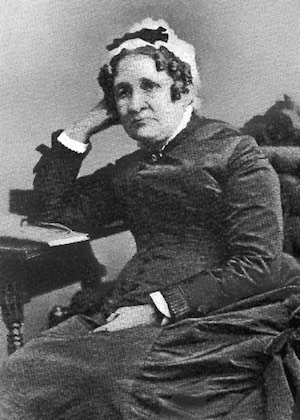 Sarah Jones was born on the 18th of October, 1806 in Wallingford, Connecticut, to Nicholas and Elizabeth Jones (née Hall). At twenty years of age, she married Ezra Dickerman (b. 1799), brother of Caroline's father, and moved to his hometown of Mount Carmel and had nine children:
Edward Dwight Dickerman (b. 1827)
Elizabeth Hall Dickerman (b. 1829, d. 1856)
Abbie Ann Dickerman (b. 1831, d. 1852)
Henry Street Dickerman (b. 1833, d. 1835)
Henry Street Dickerman (b. 1835, d. 1899)
Sarah Frances Dickerman (b. 1838, d. 1854)
Ezra Day Dickerman (b. 1840, d. 1867)
George Sherwood Dickerman (b. 1843, d. 1870)
Watson Bradley Dickerman (b. 1846, d. 1869)
Her son, Ezra Day Dickerman, would later become commander of Company I, 20th Connecticut Infantry. In 1860, her husband passed away, leaving Sarah with some property, that, judging from the letters, Cecil and Caroline managed and farmed.
She lived a long life, passing away on December 17th, 1890, at 84 years of age, in the home of her eldest son in Mamaroneck, New York.
Sources
In these letters:
Description

Things start to get lively in Virginia when pickets are attacked, and Capt. Dickerman is not feeling so well. Joe cracks a joke against Tucker, and Lieut. Dickerman is trying to get a discharge.

A letter primarily about the difficulty of shipping boxes to the soldiers and the contents of a box she sent.

Caroline writes about her mother going to a party and receiving money from Cecil along with a letter that made her "quite blue".

In this interesting letter, Caroline writes an adorable account of Louise, a letter from Austin, the rising costs of fabric, and much more.

Caroline writes about the cold weather, going visiting, the soldiers sending pay home, some other news, and complains about Adams & Co. Express not sending boxes to the 20th Conn.

Caroline writes about her cold, the baby, how her funds were doing, paying debts, and a birthday party.

In this long letter, Caroline complains about the state of the war, the moral affect of the war upon the men who are fighting it, how the armies don't respect the Sabbath, and her daily schedule.

In this detailed letter, Cecil writes about how he loves looking up at the stars at night, how he spent Thanksgiving, a well-loaded box they received from home, and sickness in the regiment.

In this letter, Cecil scolds Caroline for worrying too much and working too hard, reminding her to place her faith in Christ. He speaks of his dissatisfaction with the chaplain, how he spent Thanksgiving, and worries about their daughter's propensity for stammering.

Caroline writes about how she wishes the army would let sick men go home on furlough, and speaks of visiting with neighbors.